News
Allrecipes Dinner Spinner for Windows Phone gets major update
Allrecipes is definitely one of the best community based applications available on Windows/WindowsPhone for cooking lovers. This week, update to Allrecipes Dinner Spinner for Windows Phone is announced, featuring voice activation technology powered by Microsoft's Cortana. Allrecipes Dinner Spinner also has a brand new design and thanks to Recipe Box integration, gives ability to save and access saved recipes. As of today, Allrecipes Dinner Spinner was downloaded more than 20 million times and the new update should shoot that number higher. Users can download the application (Windows Phone) from here.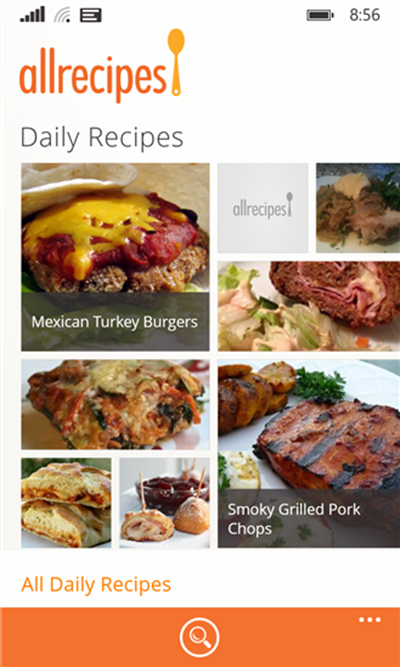 "The Allrecipes community is comprised of millions of busy, family-focused home cooks who rely on their phones every day to guide them through a wide range of cooking responsibilities including planning, grocery shopping and cooking," says Stan Pavlovsky, Allrecipes President. 'We're excited to further simplify these tasks through the introduction of voice commands to make finding recipes easier, faster and more convenient."
"Apps come to life on Windows Phone thanks to features like Live Tiles and Cortana integration," said Todd Brix, general manager, Windows Apps and Store, Microsoft Corp. "The Allrecipes Dinner Spinner app takes advantage of these features and more to enable users to find and share fresh recipe ideas in new and interesting ways."
Features include:
Voice commands – Home cooks can quickly find recipes using search or by accessing their Recipe Box using voice commands, such as '

Allrecipes

search for pancakes' or '

Allrecipes

open my Recipe Box'.
Seamless access to favorite recipes – Keeping in mind that home cooks today rely on a variety of devices for meal planning, shopping and preparation, with the new app home cooks can quickly access and save recipes to their

Allrecipes

Recipe Boxes through the

Allrecipes

Dinner Spinner app and their desktop computer, too.
Cook like a pro with video – More than one thousand mobile-friendly recipe videos guide home cooks step-by-step through preparation of

Allrecipes

' most sought-after dishes.For more information on the

Allrecipes

Dinner Spinner app, visit the Windows Phone Store.