Articles
Recommended apps for Android in 2018
Here is a mega list of Android applications that are needed for every phone. Do note that we have not included quite a few well known official applications like Facebook, Whatsapp, Official Twitter. The first part of the list has applications that are absolutley recommended for every Android user and the second list has apps that are used by those who squeeze as much from the phone as they can.
9gag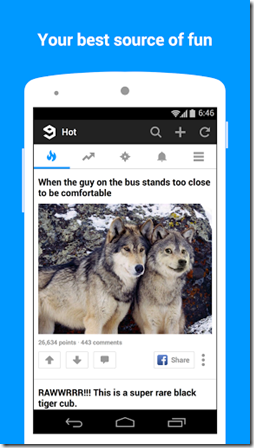 9Gag.com is go-to webpage for funny memes, gifs and viral videos. 9gag application for Android gives you access to best collection of these photos and videos for free. You can also vote for content, join discussions with community, share content on other social networks. Given how much this one relieves stress, we highly recommend this application.
Airdroid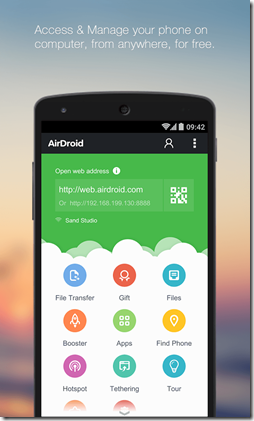 This is another application that we highly recommend. Simplicity of sharing content between phone and PC is one of the best features of Android. What if this is made even simpler? What if you don't even have to connect the phone to PC to share content? What if you can control the phone from the PC without connecting using cables? AidDroid can help you do these tasks and more. With AirDroid, you can remotely access your phone or tablet's files, notifications, messages, camera, location and many other things on a computer, from anywhere. Best part is that this works on Windows, Mac, Chromebook and Linux.
ASTRO file manager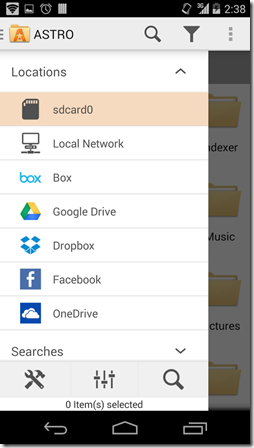 This application is one of the oldest, best, highest rated and most feature rich file managers for Android. You can not only access files on your smartphone, you can also access files that are saved on your Facebook, Google Drive, Dropbox, Box and SkyDrive cloud storage. There is a built in app backup feature and a task killer. You can also access files that are on your computer (if connected to same network). Best part is that ASTRO indexes the files that are on a non-local storage so that you can search for files even though you are not connected to the network (though, you cannot open the files without network connection).
Buffer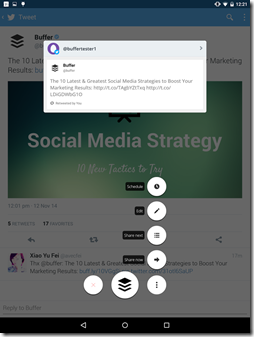 A must have application for bloggers who want to send tweet/post at specific time. You can schedule when and on what days a tweet/post need to be sent and buffer will do the rest. You also get analytics to check which posts have wider reach. With support for twitter analytics, Facebook analytics and LinkedIn stats, you get pretty accurate stats. You can share to Twitter, Facebook, Google+, LinkedIn and App.net from Buffer. Buffer works from news apps like Flipboard, Zite, Taptu, TweetDeck, Evernote, Pocket, Instapaper, Pulse, Feedly, UberSocial, Plume, Seesmic, Google Currents and almost all other reader apps. You also get Twitter analytics, Facebook analytics & LinkedIn stats.
Clipper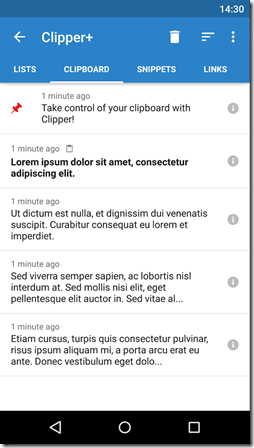 More than once, you would have felt the need to have an option to save multiple chunks of text one by one and automatically save copied content to a list. Clipper is a clipboard manager that just does that. Whatever text that you select and copy will be stored and you can access the saved content from the application.
Disk usage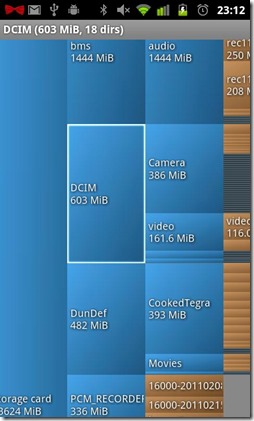 DiskUsage , as you see in the screenshot above, gives a very detailed view of storage usage and this helps a lot if you want to clear files to free disc space and are not sure which file/folder is taking up space. And thanks to the blocks layout, just one look and you will get to know which file/folder is taking up space.
Evernote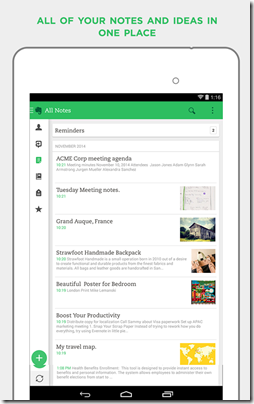 Started way back in 2008, Evernote is still one of the best cross platform note taking applications available for Android/iOS/Windows Phone/Windows/OS X. This application has generated so much of revenue that Evernote Corporation followed it up with five applications ( Web Clipper, Food, Skitch, Penultimate, Scannable). Yet, with more than 50 million downloads and superb collaboration features, this one is the most used note and collaboration tool. Using Evernote, you can take notes, create projects, add text, photos, PDFs, create and share workspaces for collaboration, create to-do lists, create agendas for meetings, create expense reports using receipts, bills and invoices that are saved periodically and even save reservations and tickets for trip planning.
Flickr
Flickr, for long has been one of the best online photo management tools avilable on the internet. Flickr for Android is the official application from which you can upload and access your photos from anywhere. The best part is that, on Flickr, you get 1000GB of free storage which means that you can upload hundreds of photos to the cloud and never worry about that hard drive or DVD disc give up on you. You can use powerful live filters to add fun to your photos, edit using in-app tools to adjust various settings (brightness, contrast, saturation, white balance, color balance etc). Flickr has built-in integration with Tumblr, Facebook, Twitter and other social networks so you can share your photos with one click.
Flipboard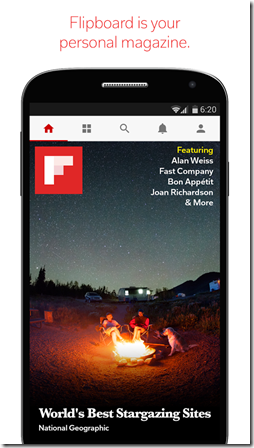 Flipboard is a cross platform news application that organized your favourite feeds into your own personal magazine. Gone are those days when we go to dozens of websites that provide varies news to see what is happening across the globe. Thanks to the advent of RSS (Rich Site Summary), we now subscribe to rss feed and import them to applications like Feedly and Press news reader. In the end, what you get is a long list of news feeds that look too simple to read. With Flipboard, all you need to do is select or follow topics during setup and Flipboard creates a magazine like interface that is personalize to your interests. You can also share an article to social networking sites. You can also follow people on Flipboard, provide your facebook, twitter, instagram, LinkedIn accounts to get photos and interesting articles that are posted to your respective timeline, appear on your Flipboard magazine. You can create multiple magazines in Flipboard if you prefer differentiation between magazinges.
Goodreads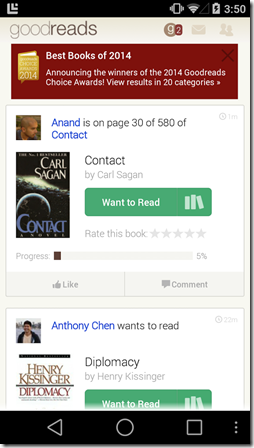 For avvid book readers like myself, Goodreads is the only solid social networking platform and its a damn good one. There are countless book reviews, there are book recommendations, you can tell the world what book(s) you are currently reading and share progress, your thoughs. You can start discussion about a book or an author or you can do chit-chat. There are challenges, there are polls. GoodReads for Android is the official application that connects bookworms to the social network. If you read a lot of books and never heard of Goodreads, head to www.goodreads.com NOW! With a catalog of 12 million books, this is one network that you should not miss.
Google Translate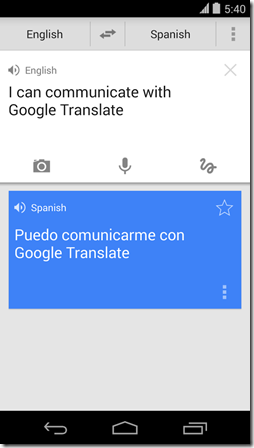 While Duolingo helps you learn European languages, Google Translate helps you translate text and speech to a different language and this is done weven when the phone is not connected to the internet. This is one application that I recommend to whose who love traveling across the globe. Google Translate can translate between 80 languages. You can provide speech, typed text, written script, text on a picture as a source and Translate will translate the same to whatever language you choose (from the support languages list). You can also save your translations and access them from any device.
Groupon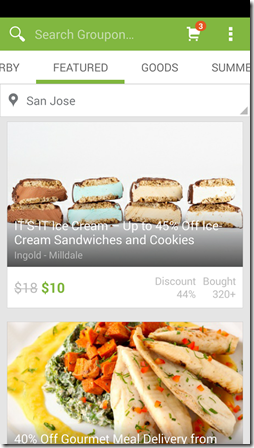 Groupon(India site: www.Groupon.co.in), launched in April 2011, features one daily deal on the best things to do, see, eat, and buyIf you love coupons and deals, Some of the products or services (hotels, rooms, spa etc) comes at unbelievable discounts. Groupon for Android is the official application for those who love checking daily deals and buy products and services using deals. Its as simple as this: Open Groupon app, check daily deals on restaurants, purchase discount coupon or buffet coupon at crazy low price, download the receipt, head to restaurant and have a nice time. For products though, what you do is buy a product at a heavily discounted price and more units you buy in single transaction, more discount you get.
Amazon Kindle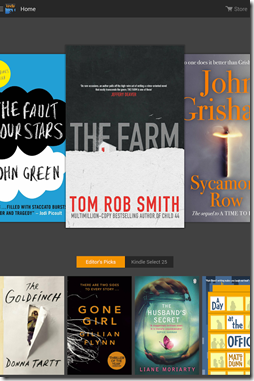 Ever since Amazon launched Kindle e-book readers, e-book store and application for various smartphone operating systems, there has been steady decline in sales of books made out of paper. I read more than 20 books in the year 2014 and out of them, 18 books were e-books and I read 17 of them on Google Play Books and Amazon Kindle applications. Gone are those days when you have to carry multiple books while traveling. Gone are those days when you have to fill cartons with your books collections when you reloate your home. Kindle is the best cross-platform e-book reader for book lovers. There are over a million free books and many more paid books on Kindle and Kindle store offers better pricing for majority of books when compared to competing apps/services. You can also subscribe to magazines, newspapers and read them on Kindle.
Last Pass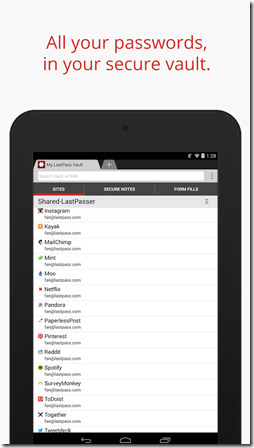 There are truckload of websites that need login id and password these days. Those who use a single password for all these websites live happily but are at constant risk of losing all data and confidential information if their password is cracked by a hacker. Alternative is to have a different password for each website and that is a major headache. Thanks to password manager services, you can save all your userid-password combinations at one place and then use one master password. Though this is not so secure, this one is much better than having one password for all websites. Last Pass takes it a step further. Using Last Pass, you store your login data, create shopping profiles, generate strong passwords and keep track of personal information. When you open a webpage or service, deatil of which is stored in Last Pass, your login data is filled in automatically by Last Pass. You can use the service for free for 14 days after which you have to pay $12 per year. You can also save your membership data, credit card data in secure notes, you can search for login detail, enable multifactor authentication to lock your Last Pass account, you can share your login data to friends and family, access your data from various devices and from lastpass website.
Lookout Security & Antivirus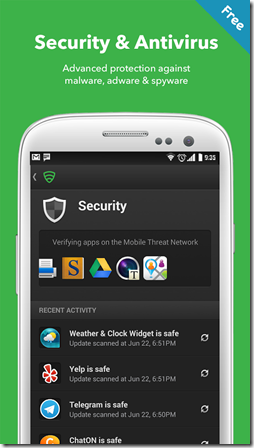 It it a known fact that Android is prone to malware and other security issues. For those who are security consious, Lookout is one of the best security/antivirus applications available on Android. You can scan applications and data on your phone, setup 'Find My Phone' to track lost phone, take a contact backup, setup theft alerts, make use of privacy advisor and make sure that you are not providing too much of personal data to apps, do a remote wipe and lock when you lose your phone.
MX Player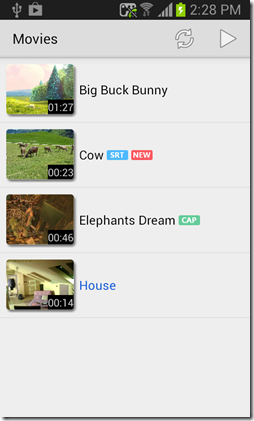 Hardware acceleration, wide range of video encoding and formats support, gesture support and kids lock make MX Player the best video player available on Android. There isnt much to say here. If you want a great application that can play wide range of formats, this is the one to get.
Adobe Photoshop Express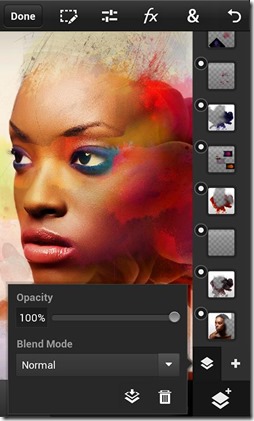 Adobe Photoshop Express is one of the best photo editing and collage maker tool for easy, quick and powerful editing on mobile devices. Download and enjoy 60+ professional looks and advance corrections like Denoise and Defog for free. 
Plex Media Streaming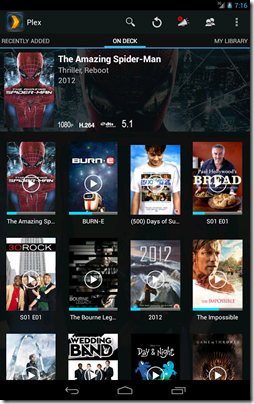 Plex organizes all of your personal media, wherever you keep it, so you can enjoy it on any device. With Plex, you can easily stream your videos, music, photos and home movies to your Android phone or tablet from your home computer running Plex Media Server. Head to https://www.plex.tv, download plex server installer, install the same on a computer as a Plex Media Server. Once the server tool is online, connect your devices and you can sync media on phone or tablet or other PCs for offline viewing  and you can also sync media to cloud services like Good Drive, Dropbox. When you pause a video on one device, you can continue the playback on another device. Plex also provides wide range of channels like TED, TWiT.
Plume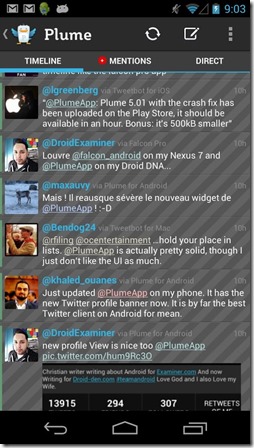 Plume is one of those very few Twitter applications that managed to stay alive while other apps are falling like nine pins due to the token limit imposed by Twitter. Plume is highly customizable, comes with a superb home screen and lockscreen widgets, you can organize tweets by color, supports live streaming, supports multiple accounts, comes with internal web browser. In short, this applications offers features that many paid apps cannot provide. If you are looking for a free Twitter applicaiton, look no further than this.
Soundhound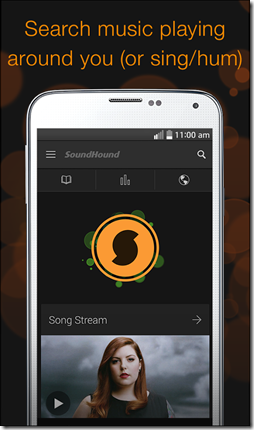 Hearing a song, be it on radio or as a background tune in a tv show and not able to recognize the song name is one irritating feeling to have. In such situation, start this application, and let the app hear the song and recognize the song and if the song is over by the time you start the application, you can try singing or humming on your own. Soundhound  will show live lyrics if the song is still playing in the background and you can save the discovery to the songs list, see music video if there is one avaiable and you can even go. Soundhound will also provide twiter/facebook udpates from your favourite artists.
Speedtest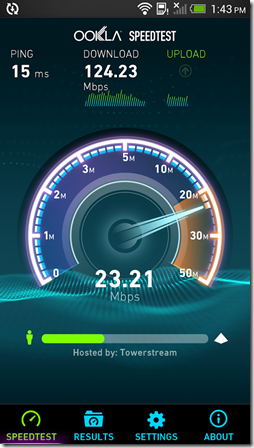 Available on Android, iOS, Windows Phone and for web browsers, Speedtest is the app that you need if you want to check how fast your internet is and how it is when compared to other regions in the world.
Swiftkey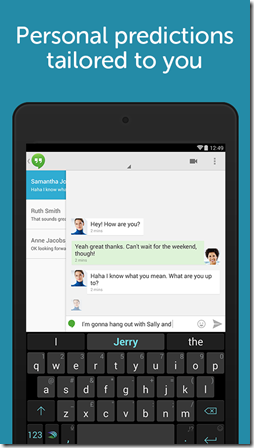 With support for emojis, powerful prediction and correction algorithm and truckload of themes,  SwiftKey is a must have virtual keyboard for Android users and the best part is that this is now a freeware with in-app purchases (for themes). You can save your customization and the learning that swiftkey did, to the cloud so that the next time you reset the phone or when you move to the phone, you dont have to teach SwiftKey your usage.
Sygic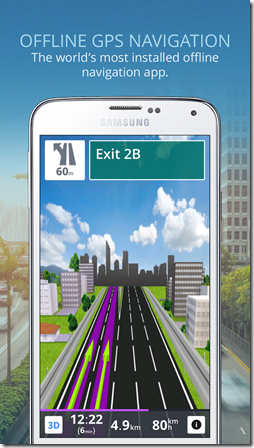 Having offline maps application/device is a must for every traveler as there are lot of regions that does not have internet connectivity. For me, Sygic is first choice as offline maps application and this has saved me from getting lost, a handful of times.  Powered by TomTom maps, Sygic is the also the most feature rich and one of the widely used maps application. Download the maps for states/countries that cover your trip and you are good to go. A new feature is head-up display where the application projects the maps on to the car's windscreen (like HUD) so that you dont have to look at the phone's screen. Othere interesting feautes are speed limit warning, speedcam warnings, car audio integion, TripAdvisor POIs (free download in Sygic Store).
Tapatalk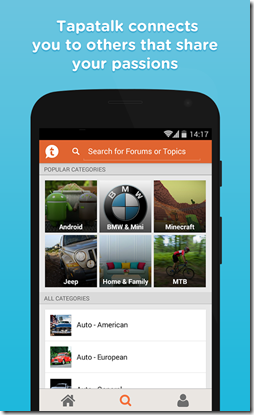 Online forum is a place where people form a community and discuss on various topics. There are sub categories based on topics, there are discussion boards, there are message inboxes. Logging in to half a dozen to talk/discuss is a headache. Tapatalk connects you to such forums and people that/who share your own passions and interests. If you dont know what forum to subscribe to, you can search for forums based on your interestes and subscribe to the forums.
Telegram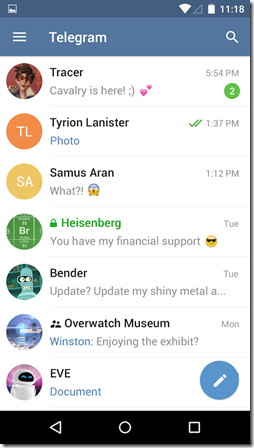 This application is in many ways similar to Whatsapp. But thanks to the new material UI based design, it has surpassed Whatsapp in usability. The best feature though is that you need not be near your phone to respond to messages. You can read and respond to messages from a PC browser, you can install Telegram on your Mac, Windows as a native application. This features has helped me many times and hence, this has been my primary internet messaging client.
Truecaller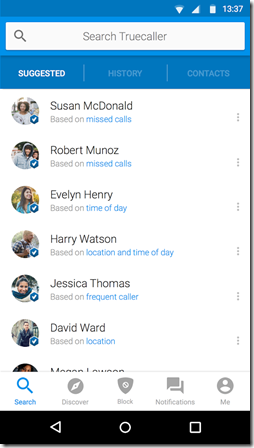 When I get a call from an unknown number, there is a very good chance that it can be a spammer or by some sales person from Country Club etc. It was hard to identify and sometimes I used to cancel calls from my relatives/friends when they call from a new number thinking that its a spam call. Truecaller is one application that helps people like me. Once truecaller is installed on the phone, when I get a phone call (and if my phone is connected to the internet), I will get a floating notification that shows whether the call is spam or not and if the person who ownes the number has entered his/her detail in Truecaller database,the same data is shown in the floating notification. As a result, it has become much easier for me to know whether a call is spam or not.
TVShowFavs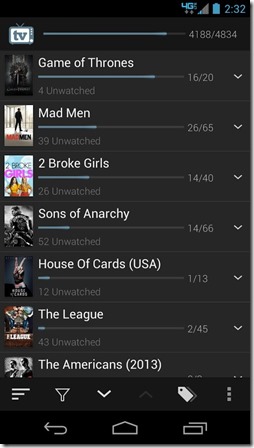 Those who watch lot of TV series knows the pain of tracking the episode schedule and follow the episode list. TVShowFavs provide an extremely simple layout to track your favourite TV shows. All you need to do is search and add the TV shows that you watch to 'My Shows' list. Then, from the TV series section, you mark the episodes that you have watched as 'watched'. Once you open the to-do list now, what you get is the full list of episodes sorted by TV series that you are yet to watch along with the schedule (when the episode was aired and when the next episode is going to be aired). Once you marked all the aired episodes of the series as watched, the series will not appear in the 'to-do' list unless a new episode is aired. The app comes with a great widget that provides excellent view on list of episodes. This is the must have application for TV lovers.
Unified Remote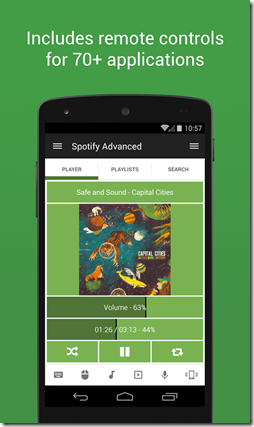 If you have never tried application like this one, you better try this RIGHT NOW! Install Unified Remote server on your PC or Mac, install Android application on your phone/tablet. Make sure that both the devices are connected to same network. Once the server app on PC/mac is in sync with the client app on your phone/tablet, you can control various applications and desktop of your PC/Mac. For most popular app, you get similar looking remote control in Unified Android app. You can even use your phone/tablet as a trackpad to control mouse. There are 18 different remotes in free version and whopping 40 remotes in paid version. You can even use voice commands to control your PC/Mac, setup widgets to perform quick actions, create custom remotes and even perform NFC actions. Popular remotes include VLC, Keynote, YouTube, PowerPoint, WMC, iTunes, MediaMonkey etc.
uTorrent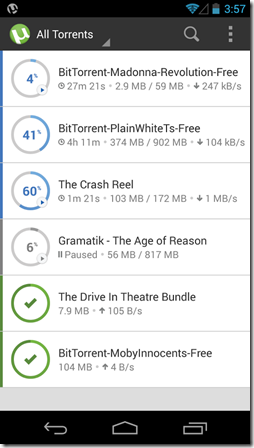 For those who love downloading torrents on their phone, utorrent is best application for Android. Do note that downloading pirated and copyrighted material is illegal and can land you in jail. Also, the way a torrent downloads, this can stress the phone's memory to the maximum. provides simple search and discovery, download and content playback. Thanks to the integration with BitTorrent's licensed content, you can download media without breaking any rules. You can also subscribe to RSS feeds on content, play downloaded music files in a playlist using integrated media player.
Wattpad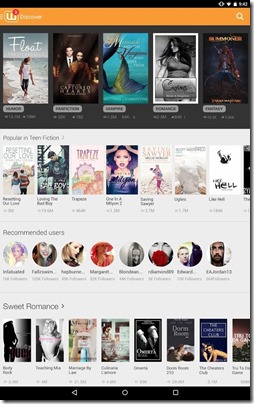 Not every one gets a chance to publish their story by collaborating with major publishers. Wattpad is a place for such writers who can share their stories for others to read. With 75 million stories to read, 35 million registered users, Wattpad is world's largest community of readers and writers. While goodreads is a social network to discuss about books, Wattpad is a network where writers showcase their talent. Wattpad can be access from a web browser and using iOS and Android applications.
Wunderlist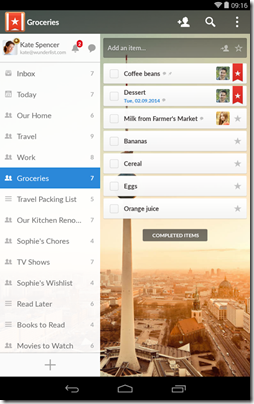 Wunderlist is one of the best cross platform to-do list applications. Using this application, you can create lists, share the lists, create reminders, chat about the lists, attach photos and documents to the list. You can even assign the lists to others using this application, access and edit list from Android wear devices like smartwatch and you can change the looks and feel of lists using custom backgrounds. The best part is that the lists can be access from various types of smartphones (iOS, Android, Windows Phone), from a web browser and from a computer.
Zomato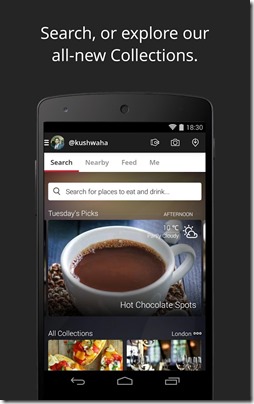 These days, it is hard to find 'quality' restaurants and there are lot of posh restaurants that make you say 'all that glitters is not gold'. Unless you are like walking bible of restaurants in the city, you will need something that can help you track down best restaurants and eateries in town. You don't want to carry a 500 page book with you every time you go out, right? With Zomato, you can find reviews, suggesions, contact detail, menu for restaurants across the city. If you are clueless as to what to eat or where to eat, head to the collections section and in a matter of minutes, you will make up your mind.
Zombies,Run!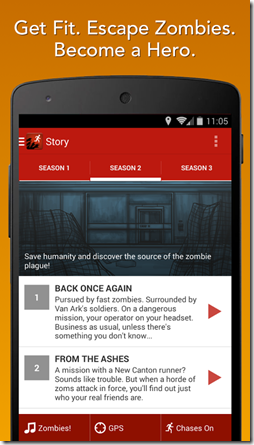 Running with music on is so old style. Running from Zombies is the new style. Put your running shoes on, connect headphones and start the application 'Zombies, Run!'. The application starts a story with various missions that you have to finish and you do that by running. Sometimes, the feeling is so surreal that you actually feel as if the zombies are right behind you and breathing down your neck. This is the best fitness app with a twist. 33 missions, custom music playlists, storyline where you save hundreds of lives, detailed statistics, export/share session detail using zombie link. What more do you need from a fitness app!
You can also try these amazing applications that add a bit of fun and geekism to your Android world.
Any.do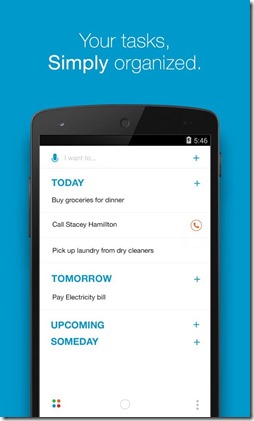 To-Do list application cannot get any simpler than this one. The interface is clean and yet is filled with features. You can organize your todo's, family tasks, work projects and also collaborate with others in finishing tasks. You can attached photos, videos, audio and Dropbox files to the task. If you are too lazy to type the content, you can speak out for any.do to change the voice to text. Any.do can be accessed from a smartphone, as a web app and from Chrome browser. When you pay for premium subscription ($4.99/ month or $49.99/ year), you can setup location based reminders, heavily customize reminders.
Applock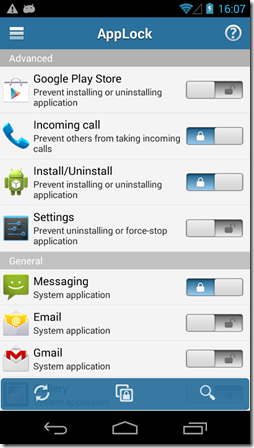 Worried about someone playing your favorite game and ruin it? Worried about someone taking your phone and going through your messages and photos list? With applock application, you can lock the applications so that the applications can be opened after entering a pre-set pin. You can also hide your photos and videos from prying eyes.
App sales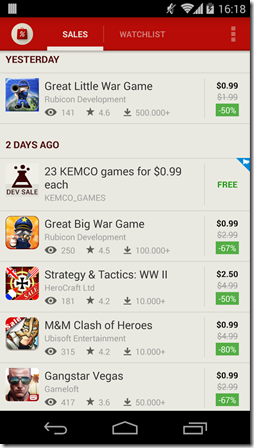 Not everyone is ready to pay a premium for applications. Every now and then, we see applications sold at a discounted price. This apps will help you track the price of applications that you are interested to buy, give a list of apps that are sold at a discounted price right now, check pricing history for application and also let you share the sale/offer detail with your friends at the click of a button.
Bacon Reader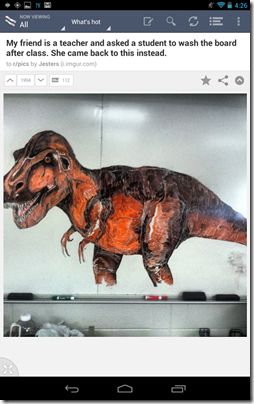 Reddit is a social networking service where registered users can submit content and comment on content, where content is organized by areas of interests called subreddits. This is the only application on Andorid with support for Redditorial and is definitely among the best apps for Android.
Camera360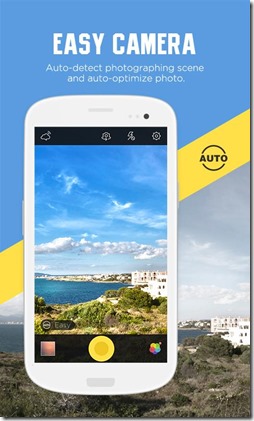 With hundreds of filters, a dozen camera modes , skin smoothening and other features that enhance skin tone, editing tools and unlimited cloud album, Camera 360 is simply the best alternate camera application available for Android devices. Best part is that the application is free to use and there are no ads.
Couch-to-5k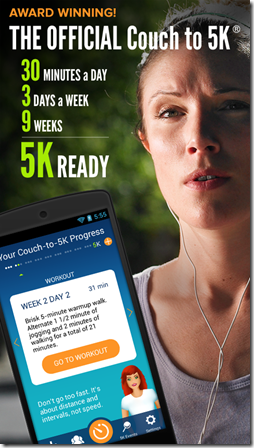 There are countless guides, books and webpages that help you succeed in completing a 5k marathon. This application is the best one among such applications for Android. The training plan is created by experienced trainers from active.com and is designed to make sure that runners are not injured by over-workouts. You can also track your progress, share progress to facebook.
DoubleTwist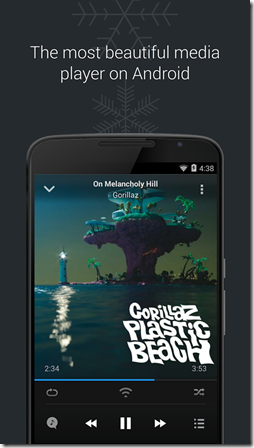 DoubleTwist is one of the best music players available for Android. Best features of DoubleTwist that is that you can sync music and playlists from iTunes over USB or using AirSync over Wi-Fi. In case you dont have album artwork, the same can be downloaded for free. DoubleTwist also supports and subscription to podcasts, download podcasts automatically over 3G/WiFi. Other features include streaming vidoes/photos/music to Xbox, PS3 and Sonos.
Light Flow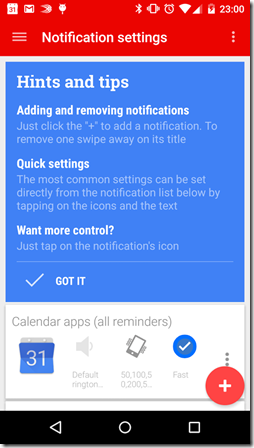 If you have an Android phone with a notification LED and if you feel that the notifications are not enough for you (well, most phones have only three notification styles and that is boring). Using LightFlow, you can heavily customize notification LED and set different color for apps/contacts. Given the nature of the customization, try the LightFlow-Lite first and if all is good, go ahead with full version.
Office Mobile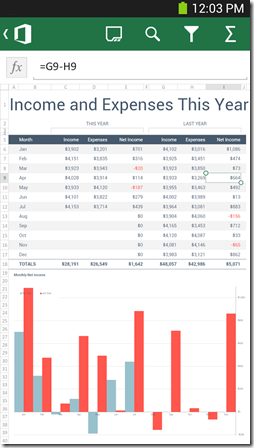 If you life is centered around Microsoft Office application suite, this is a must have companion application. Office Mobile is official application from Microsoft that lets you edit Office documents with ease. You can also add comments and share your document to your contacts. With seamless integration with Ondrive and with SharePoint, you can access and edit documents on the cloud and save them to the cloud.
Note: Sign in with a free Microsoft account to create, edit and save documents for home use. A qualifying Office 365 subscription is required to create, edit and save documents for business use. Qualifying plans include: Office 365 Small Business Premium, Office 365 Midsize Business, Office 365 Enterprise E3 and E4 (Enterprise and Government), Office 365 Education A3 and A4, and Office 365 ProPlus.
ROM Toolbox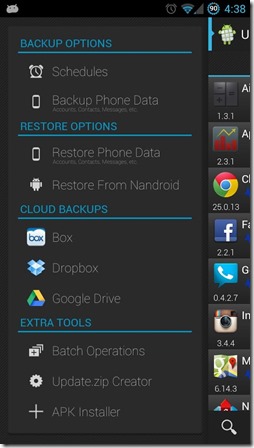 This is the most comprehensive ROM management application available on Android. You can search for and install ROMs and themes, create/manage/restore nandroid backups, wipe data and cache, backup and restore application data/messages/contacts/bookmarks/accounts, freeze/defrost system/apps, move applications to SD card. If you want to uninstall multiple apps at once, there is a batch uninstaller. The built in task manager can be used to clear RAM. You can create your own scripts and run them as root, the built in file manager has two panel for easy management of files/folders. You can play with recovery options, boot options, create themes, heavily customize status/notification bar, change logos and icons at will, play with CPU and governors, tweak kernel. In short, you can literally play with every part of the operating system using ROM Manager, period!
Root Browser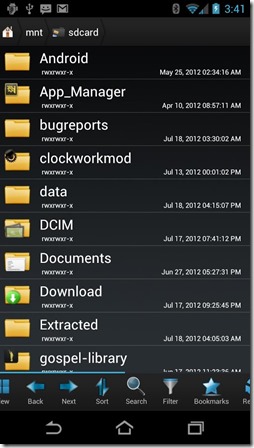 While other file browsers access files in the phone, they cannot access hidden and operating system files. Two file manager panel layout helps managing files, batch copy/paste is easier on this compared to other file managers, you can explore apk/jar/rar/zip files that are hidden, bookmark folders, install zip files using clockwork recovery, send files to others using email.
SuperSU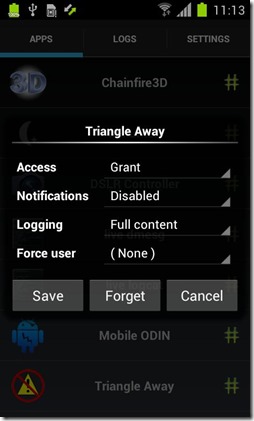 Some applications and tasks (like taking a full backup, installing a different ROM, playing with kernel etc) will need full administrator access. In linux, this is called having 'root' access. SuperSU is the tool to use if you have a rooted phone and want to control which app is allowed to gain root access and for how long.     Please do note that this application does not help you to root the phone and will not grant root access to applications if the phone is not rooted.
Tasker
Tasker is similar to AutomateIT in many ways. Using Tasker, you can automate actions/tasks, there are hundreds of built-in actions, the application supports plugins. You can export projects as applications where each project contains multiple tasks. For example, you can create an application that, when you reach your home, will connect to your bluetooth home stereo and start playing songs or when you go to a gym, start fitness application, disable notifications and open the music application for you to play music.
TED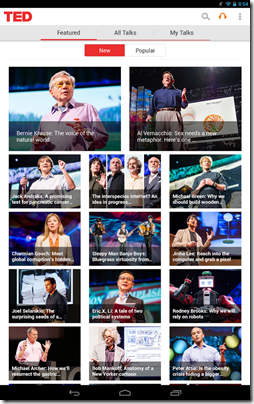 TED's official Android app presents talks from some of the world's most fascinating people: education radicals, tech geniuses, medical mavericks, business gurus, and music legends. Find more than 1700 TEDTalk videos and audios (with more added each week) on the official TED app — now for tablets and smartphones. Fully translated and localized in 22 languages
Titanium Backup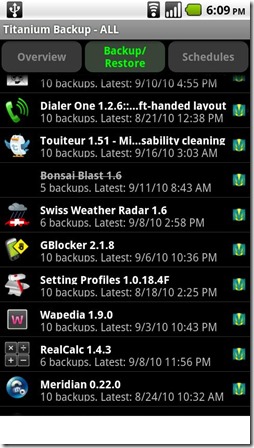 Using this application, you can backup, restore, freeze your apps + data + Market links. This includes all protected apps & system apps, plus external data on your SD card. You can do 0-click batch & scheduled backups. Backups will operate without closing any apps (with Pro). You can move any app (or app data) to/from the SD card. You can browse any app's data and even query the Market to see detailed information about the app. Other features include sync to/from dropbox/box etc, integrate system app udpates into the ROM, create own update.zip by adding apps and data to udpate package, schedule a backup etc. In short, this is the absolute best application for managing app data and integrating data into ROMs/updates.
Waze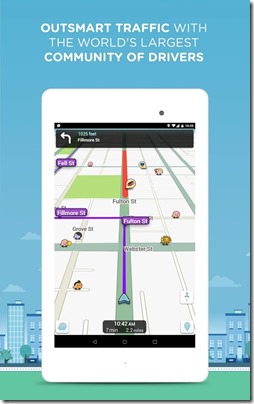 Waze is not just another maps application where you check maps and set route to get turn-by-turn navigation. Waze is a community driven mapping application that provides maps, real-time traffic data, road info, live alerts on accidents, hazards, police traps, road blocks etc. As a contributor, you can edit the maps, provide information on local places and businesses, add events and as you add more data, you accumulate points and climb the ranks in your community. Waze also supports voice guided turn-by-turn navigation. The best feature of Waze that sets it apart from other maps application is that you can set the route, send the route and your ETA to your friends so that they can check your ETA and the route you are taking.