Asus G11CB – A powerful Gaming Desktop – Review
Buying a branded Desktop is something which is not popular these days. A desktop is usually assembled as it gives endless configuration options and upgradability. The cost of an assembled PC is also much lower than a branded PC. But there are people who want to buy a desktop from reputed manufacturers to avoid dealing with the issues of computer assembly. Asus is in the market to cater to such consumers. I am a Desktop person and I always prefer desktop do all the heavy lifting. A desktop can be more powerful without burning a hole in the pocket.
Gamers usually prefer desktop and they want to configure their own gaming stations. Asus G11CB is a gaming desktop that is here to entice such consumers. I had the Asus G11CB sent over to me for review and here are my thoughts.
In the box
The box weighs over 11 kg. Inside the box is the Asus G11CB desktop, a basic gaming keyboard with backlight and an optical mouse. It also contains the usual power cables, user manual and a DVD with some driver softwares.
Design
The Asus G11CB is a heavy machine. It weighs little less than 10 kg. It was a bit smaller than my cooler master tower. On the front there are 4 USB 3.0 ports. There is a card reader and a power button with LED backlight. The G11CB has a Blu-ray/DVD Writer Combo that ejects from the front. At the top is the audio and mic 3.5mm jack.
There are a couple of USB 2.0 ports at the back and 2 x USB 3.0 port and also 2 x UBS 3.1 ports. That's the max number of USB ports I have seen in any machine. There is also HDMI port, VGA port, RJ45 and a 7.1 channel audio panel. On the video card, there is a DVI port, HDMI port along with 3 Display ports. The tower has a nice futuristic looking design with neatly lined up LED lights all around it.
The keyboard that comes with the desktop is of good quality, though not an extreme gaming keyboard. It is backlit and has a distinct volume knob. The backlight can be turned off. The key has good tactile feedback and are spaced evenly apart.
Hardware
The PC has a Intel® Core™ i7 6700 processor, but there is a Core i5 option as well. It has 8GB of DDR4 RAM, which I believe is low for a gaming machine. Thankfully the Intel H170 motherboard can take in another 8GB of RAM. For the graphics, we have the NVIDIA GeForce GTX960 graphics card with 2GB of GDDR5 memory. You also get a 4GBGDDR5 variant. The choice of hardware for this machine is not that ideal for a gamer. I would prefer a i5 machine with 4GBGDDR5 graphics card and a 16 GB RAM on this machine. On the storage, the machine has a 256 GB Samsung SSD and a Toshiba Sata3 1TB HDD.
Software
The machine runs on Windows 10 and a few apps pre-loaded. The Aegis II application is useful to tweak the system performance and also the LED light colors around the CPU. The application is not user-friendly, though. The Asus GameAlive is used to record game and Asus Boost launcher is a system resource cleaner. The Asus command is a command center with a list of apps for controlling power, system update, security, backup and recovery, audio settings, etc… There is not many unnecessary applications on the machine and I find it a more or less a clean installation of Windows with a few useful apps.
Performance
The GTX960 with 2GB RAM is powerful for most of the game titles I played on this desktop. Unfortunately, I didn't have a 4K display to test it out. But on the Full HD LG monitor the game play was smooth and clocking over 60 FPS consistently. The system is quick to respond and feels nimble. I have a strong feeling that the i5 processor and a 4GB GTX card would have made it even more pleasant. I also used the desktop to render videos from Adobe premier. The rendering time for a 5 min FHD video was less than 1 minute and that alone is super impressive. Though I am not a gamer, I would definitely love this machine on my desk, just for its high speed video editing capabilities.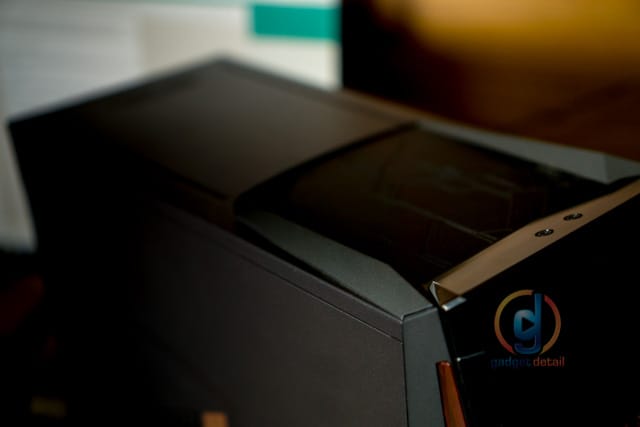 Verdict
The Asus G11CB may not entire the gaming freaks. But for anyone looking to enter into the gaming field with a risk free gaming machine, the G11CB is the best out-of-the-box solution. It is priced between Rs 90,000 and Rs 1,15,000 for the different configurations. If you go on to the market and assemble a similar configuration, you will end up paying about Rs 75000 for the top configuration along with a Full HD monitor and a bad ass speaker system. But that is not the point here. If you want a hassle free powerful desktop the Asus G11CB is the machine to check out.