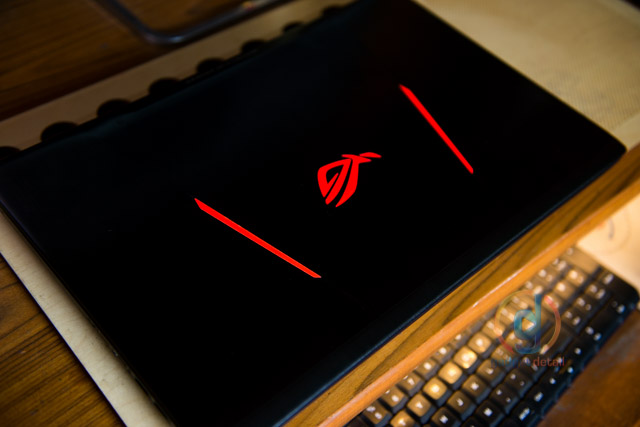 "Gaming Laptop" was a misnomer a few years ago. Today with persistent commitment and continuous improvements from laptop manufacturers have made laptop acceptable machines among gamers. Asus is one such company which never gave up. We have been using the Asus ROG Strix GL553V for over a month and let us check out if this is a worthy gaming machine.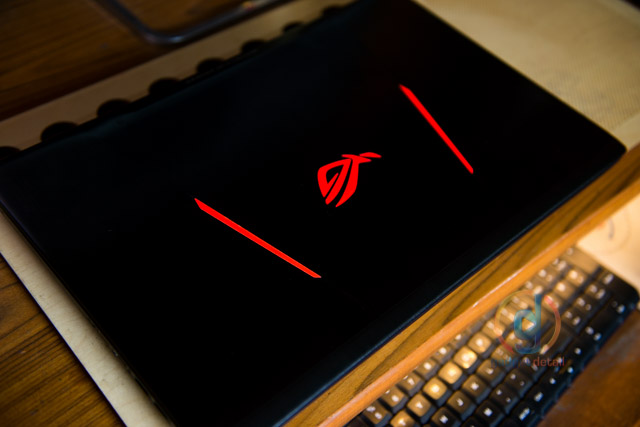 Design
The Strix GL553V is a top end model priced at Rs 1.35L. I have this laptop on my desk and whenever I look at it, the design looks appealing to me. The metal plated lid has an orange neon ROG logo which glows. When you open the laptop, the "wow" factor goes to another level as you see the RGB backlit keyboard. It has 4 zones with customizable colors and adjustable brightness. The keyboard has dedicated number keys. The keyboard is brilliant for gaming. It has a 2.5mm travel that makes it very comfortable and fast to use. The metal is just restricted to the top lid. The bottom of the laptop and the insides are all plastic but of good quality. It has brushed texture on the inside, adding to the aesthetic appeal. The trackpad is large and comfortable to use, but most games prefer a mouse. Yet the touch area is smooth and the pad is highly accurate.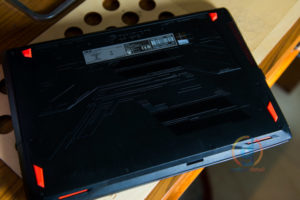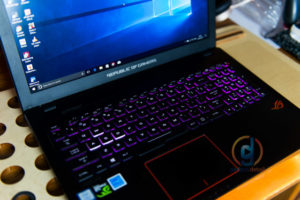 Ports
The ROG Strix GL553V has the charging port connector on the left, followed by RJ-45, HDMI, 2 x USB 3.0 ports, USB Type C and a 3.5mm audio jack port. The right side has one USB 2.0 port and a DVD drive. On the front, you would find the card reader concealed between a dual speaker grill arrangement.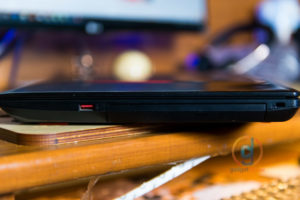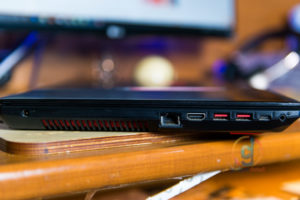 Display
Strix GL553V has a 15.6-inch FHD display. The display is bright and the colors are vivid. It has good viewing angles. The color contrast and saturation can be controlled to suit your liking. It also has a blue light filter mode to help ease the stress on eyes. This is really helpful while playing games for a long duration.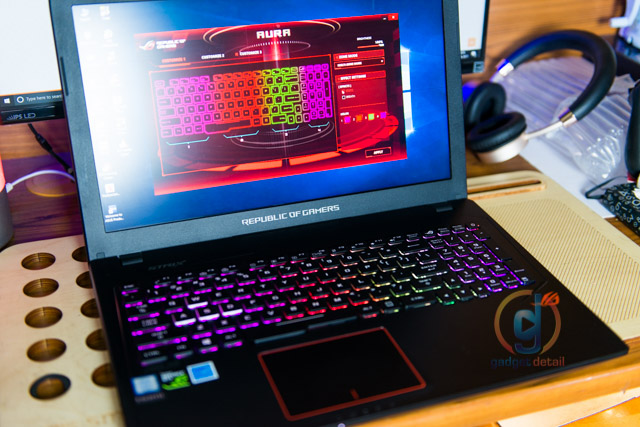 Hardware and Performance
The Strix GL553V is powered by Intel Core i7 7700HQ Kaby Lake processor along with 16 GB RAM. For graphics, it has the top of the line Nvidia GTX 1080Ti 4GB graphics cards. It has 256 GB SSD for OS management and a 1 TB hard disk for file storage. The laptop supports Bluetooth and WiFi and it also has a 720p front camera. It runs on Windows 10. While the laptop's hardware looks top end, performance in the real world is what that matters the most. I have been using this laptop for video and image editing more than gaming.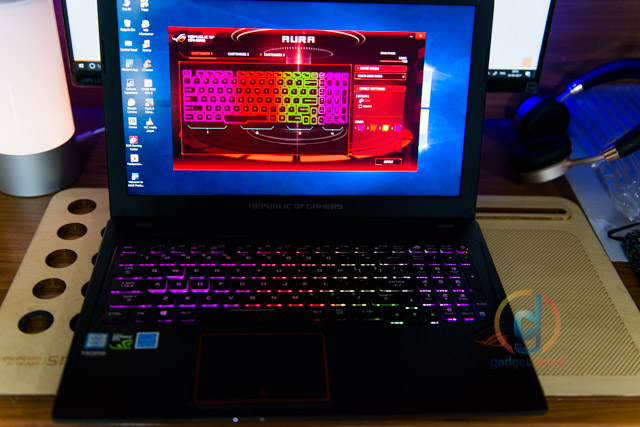 On my usage, I found the performance of this laptop to be buttery smooth. The 16 GB of RAM and the 4 GB graphics card is a concoction of speed and performance. For the most part of my production routine, I had my Adobe Lightroom, Premiere and Photoshop all open while using the Chrome browser with over 20 tabs active. The laptop showed no signs of stress.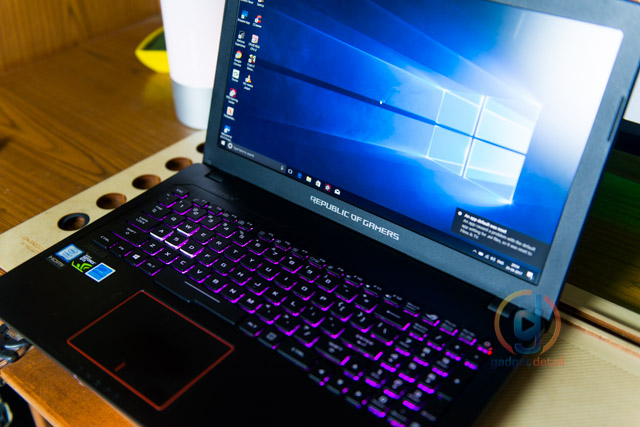 Now let us talk about the real reason for the existence of this machine: Gaming. I play my usual favorite: Tom Clancy Blacklist and Crysis 3. During gaming, the laptop remains cool even after a long session. But the fan noise is noticeable. When the laptop is in high-performance mode, graphics rendering quality is too good but you would notice occasional screen lags. I set the gaming mode to medium performance and the machine handled it with ease. If you are a serious gamer, unlike me, you may find this part a bit off-putting. But for most of my usage condition, the Strix GL553V is a perfect balance of speed and performance.
Battery
The laptop can be charged from 0 to 100% in about 2 hours. Once charged it can last for over 4 hours of regular task like browsing, photo editing, video editing, documents, etc. The moment you start doing resource-intensive tasks like video rendering or gaming, the laptop battery would need charging in about an hour. It is recommended that you have the power cable connected while gaming, for better performance.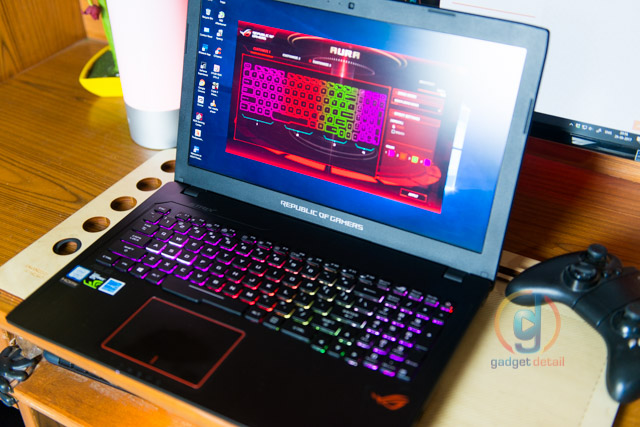 Verdict
Strix GL553V is priced at around 1,11,000 INR, at the time of writing this review. For about a Lakh rupees, you get a powerful gaming machine. It has a cool design, comfortable keyboard, and a top end hardware spec. Gaming with resource heavy titles on high-performance mode may not give you the best experience. Most of the regular gaming titles and resource heavy software are handled smoothly by the core hardware. Asus ROG Strix GL553V is a worthy and powerful machine for most your regular gaming titles and resource hungry software needs.