How to book your Jio Phone Online
Reliance Jio announced the cheapest 4G feature phone, the Jio Phone,  a few weeks ago. Today (August 24th) Jio Phone pre booking started. But as expected the site was down and it was not an easy task to book the Jio Phone. After trying in the App and on my desktop, I finally managed to pre-book a Jio Phone. I was able to book it on the desktop. You will have to pay Rs 500 to pre-book your Jio Phone. This does not mean that you are buying the mobile, but you are just paying an advance to book yourself a Jio Phone.
If you have been under rocks and not sure what the Jio Phone is, then make sure you read this before we proceed to the steps to buy a Jio Phone.
Step 1: Load money in your Jio Wallet or keep a debit or credit card handy. You will need to pay Rs 500 to book a Jio Phone. The cost of a Jio Phone is Rs 1500 and you will have to pay the balance amount later.
Step 2: (Mobile app) Open My Jio app. Open side menu and select My Vouchers. Click on the Banner "Book Now". Some times, you may see this on your home-screen. If you are opening your app in the mobile with a Jio SIM card, sign in is faster. But if you don't have a JIO sim card, then you will just see the Book Now banner and you can jump to step 3.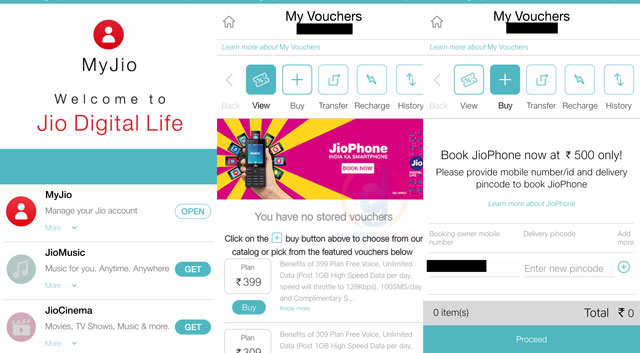 (Desktop) Open www.jio.com. You can sign in, optionally. But you can also directly click on the "Book Now" button and proceed to Step 3.
Step 3: Enter your mobile number (Any active number, Jio or non-Jio) and your Pincode and press the "+" icon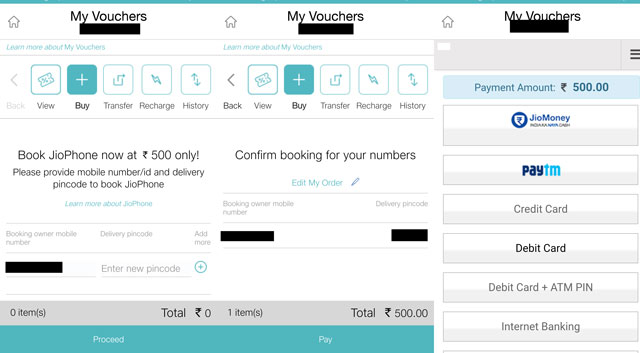 Step 4: Click on the Pay now button and proceed to payment page
Step 5: Make a payment with any of the payment gateway options
Step 6: You will receive a confirmation message on the mobile number you entered. This number will have a Transaction ID and voucher details, which is your mobile number and pincode.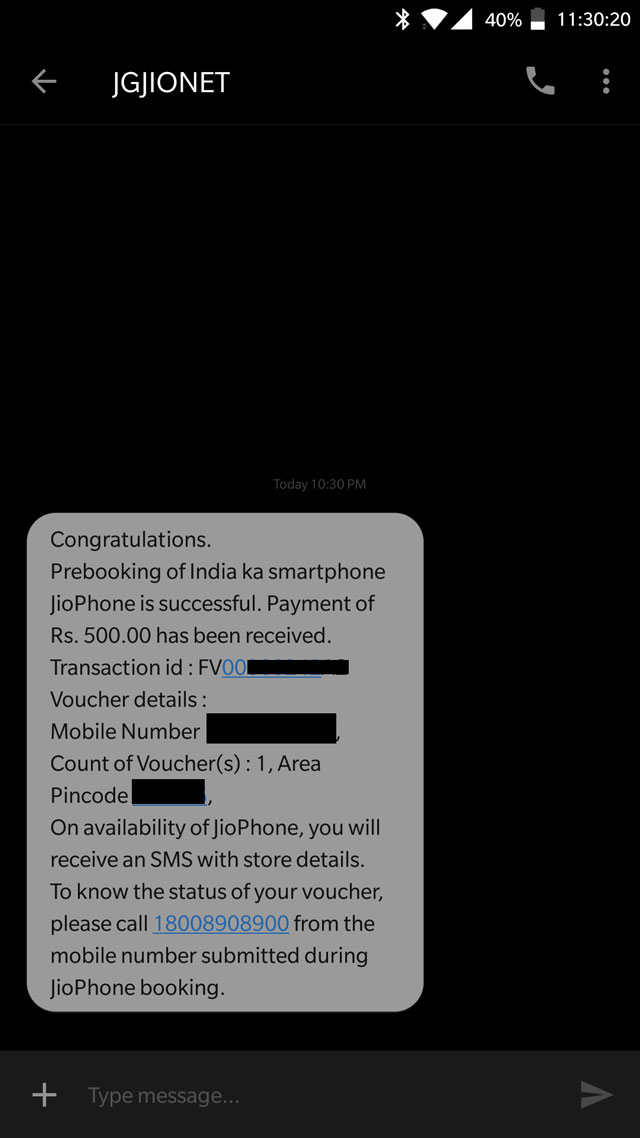 Now that you have successfully booked a Jio Phone. After Sep 15th, Jio Phone will be available in the stores. You can take your confirmation number along with your Aadhar card to the store nearby, after you get a message from Jio after Sep 15th. The message you get after Sep 15th, will have the store details, from where you can get your phone. This is allotted based on your Pin Code. Jio has plans to make Jio Phone available in millions from Day 1. But now that people have started booking, Jio will have an idea of the requirement and can plan accordingly.
Alternatively, you can also go to a Reliance Digital store nearby and book your Jio Phone, by paying Rs 500 and getting a printed voucher.