Epson WF-100 – The most powerful portable printer – Review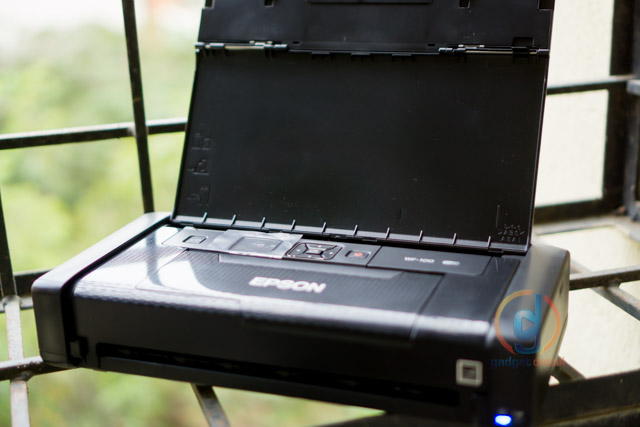 It is the age of mobility and everything is on the move. In this digital age, the need for a home printer has reduced. Certain schools have also started accepting digital submission of assignments. But there is a segment of professionals who still need a printer. Like the telephone booths, printing centers are becoming scarce these days. What if those professionals who need a printer can just carry it along, in their backpacks? The Epson WF-100 is one such compact printer that is build for people who need a compact and mobile printer.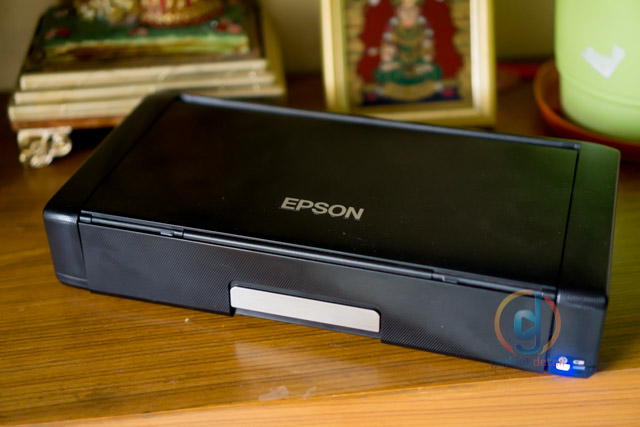 Design
The Epson WorkForce WF-100 has wireless connectivity, WiFi Direct and a rechargeable lithium-ion battery. With the WF-100, you can just forget the wires, except for charging the printer. It weighs about 1.5 Kg and when collapsed, it becomes a compact printer. The lid expands to become the paper feeder tray. It has micro-USB port for charging, so it can be charged with a powerbank as well. It also has an AC charging port for power and charging. It is a good portable solution.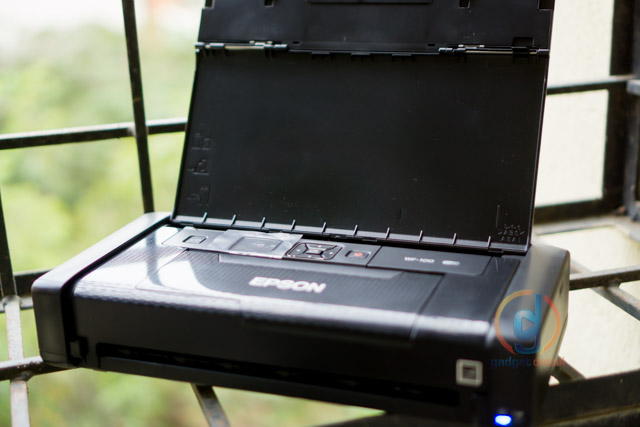 Setup
This is the simplest printer setup ever. I did not even plug it with my PC. All I did was to switch on the printer and connect it to my Wi-Fi network. Google Cloud printer service detected the printer across all my devices and it was ready to print in a jiffy. Even if it is not connected to a Wi-Fi network, it can be physically connected to mobile of PC, via the micro-USB port and the system will recognize it after installing the required drivers. I did nothing more than connect this printer to Google cloud printer and now I can print on it from anywhere in the world. That is the beauty of this portable and connected printer.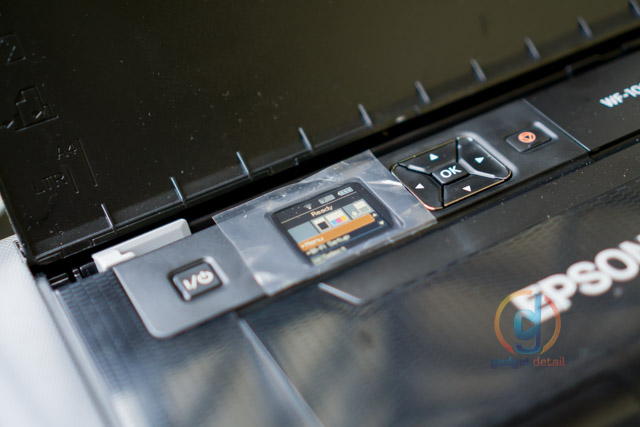 Performance and Quality
The WF-100 is an inkjet printer. It is not a fast printer. But when connected to AC power, it prints faster. I can print 1 black and white A4 print in about 30 seconds. Printing full page color prints take really long time. Using this printer is a child's job. My 5 year old kid was introduced to this printer and he was comfortably printing his cartoon hero on this via the mobile. It can't get simpler than this. The printer also has auto-sleep and wake function to save battery and power. Only draw-back I find on this printer is its slow printing speed.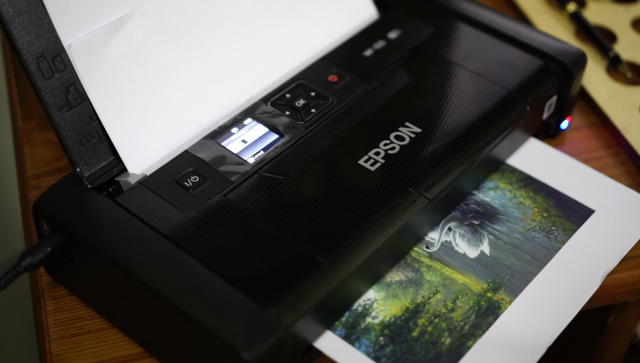 Quality of black and white prints were crisp and clear. Color print quality depends on the quality of paper. Interestingly I found the image quality to be better on a matte finish paper rather than a gloss paper. But keep in mind that this is not a photo printer. For a mobile printing solution, the WF-100 does a marvelous job.
Battery
It can run on AC power but it can also be charged. With the supplied charging cable, it can charge fully in about 2 hours. If you are charging with a mobile wall charger or a power bank, it takes long, really long, to get charged. Once charged, the printer can print about 100 B/W or 50 Color prints, as claimed by Epson. I have not tested it, as I did't want to waste resources. But even it the claimed figures are 80% accurate, this is a dependable portable printer to carry around.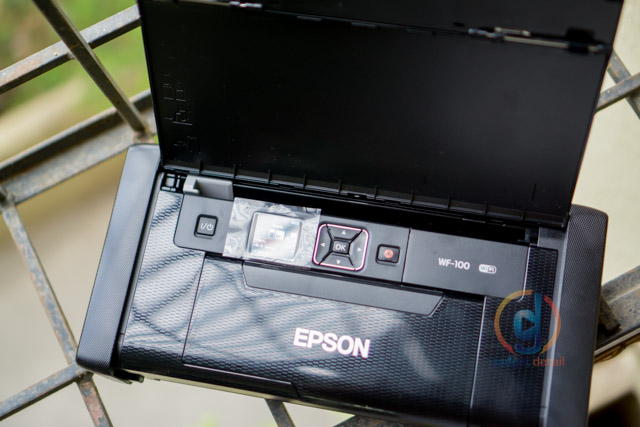 Maintenance
There is a maintenance box under the printer. This small little device is like a garbage bin for the printer. Any ink that is used to clean the head gets collected in this unit and the printer warns you to replace it when needed.
The ink cartridge used is the Epson 215. Authentic cartridge costs about Rs 3500.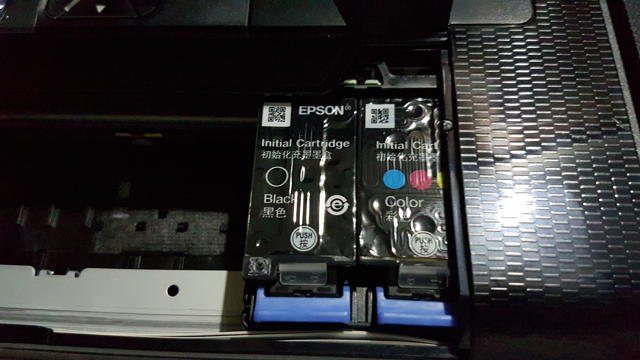 Verdict
The Epson WorkForce WF-100 is available for around Rs 20000. Replacement cartridge costs yous about Rs 3500. It is perfect for the user who travels, or even for the space-conscious or low-printing consumer. The built-in WiFi makes it easy to print on multiple devices and the built-in rechargeable battery is very impressive. It not for a regular office or home-office setup. If you are looking for a portable printing solution and you are ready to pay a premium price for quality product and quality print-outs, then the Epson Workforce WF-100 is the one you must buy.
Link to Buy on Amazon