Reviews
Nubia N2 – Endurance Personified – Review
Nubia is on the roll and they have been introducing a new mobile every fortnight in India. The Z11 Mini S was a great all-around performer and it is still a highly recommended mobile in the sub-20k segment. The Z17 Mini was a good model from Nubia. Nubia N1 has won the heart of many, in the budget segment. But now we have a new player in the team: Nubia N2. The Nubia N2 is a battery centric mobile and let us take a look at this mobile to see if it is worth considering as your next mobile.
Design
Nubia N2 looks a lot like the Nubia Z11 Mini S. It has a solid metal body construction, with antenna lines flowing over the back panel and not across. The top has the 3.5 mm audio jack and noise-canceling mic. The bottom has the USB-C port flanked by speaker grills. The right side has the volume buttons. The left has a dual hybrid SIM slot and power button. The back has the 13 MP camera with a single LED flash. The front has the 16 MP camera and below the display are the back-lit capacitive navigation keys. The home button is integrated with the fingerprint sensor and it does not have any breathing backlight effect. The back and menu keys' orientation can be changed. The mobile has a 5.5-inch display. The mobile is handy and comfortable to use. The design is very familiar and uninspiring. But the build quality and product finishing are impeccable.
Display
N2 has a 5.5 inch AMOLED panel with just 720p resolution support. The display is bright indoors with good viewing angles. The colors are natural. The proximity sensor is quick to respond and change brightness. Under direct sunlight, the display is bright and has good contrast levels. The 2.5D curved glass gives it a premium feel. It would have been great to see a Full HD display on this mobile. It is 2017 and mobile companies must stop making 720 displays. But with what we have in hand, the N2's display is good for media consumption and regular smartphone usage.
Camera
The camera has been a strong base for most of the Nubia mobiles. Nubia has set an expectation level for itself with mobiles like the Z17 Mini and Z11 Mini S. Nubia N2 has a mediocre camera setup. It has a 13 MP camera at the back and a 16 MP front shooter. They are capable of shooting 1080p videos.
The camera UI is inspired by iOS, but it has a lot of functions. Nubia calls it the Neovision 6.0. The manual or the pro mode can be used to get full control over your shots. The "Camera Family" has about 12 modes to get your creativity flow.
Multi-Exposure – Click creative pictures by exposing and controlling the exposure of multiple frames in one shot.
Light Draw – Light painting
E-Aperture – This is like the portrait mode, but not only controls aperture but also controls a few more parameters like shutter speed. This is like pro mode and portrait mode merged.
Slow-Shutter – To click creative photos, but slowing the shutter speed.
Star-Trail – To click start trails.
Videomaker – Create vine like videos
Trajectory – Click creative shoots with trails blurred.
DNG – Raw mode. This is useful for professionals who want to edit the photos in powerful software later.
Clone – Click same foreground subject in multiple locations on the same background
Time-Lapse – create time – lapse or hyper-lapse videos
Slo-Mo – Slow motion videos
Pano – Panorama shots
Macro – Assist in clicking very close up macro shots
With all these modes, you can keep churning out creative photos without much effort. The quality of photos is decent, but not impressive on the Nubia N2. Focusing is fast, but accuracy is a miss and go. The colors are a bit faded but the exposure is perfect. It lacks sharpness and details to match my expectations. The low light shots have noise and the edges are not sharp. When there are Nubia mobiles like Nubia Z11 Mini S and Z17 Mini in the same price range, I would go for them, rather than the N2.
Check out the camera samples and you will see what I mean.

Hardware and Performance
Nubia N2 in India is powered by Mediatek 6750 processor. Now, this processor has been active in the market since the age of Dinosaurs, if I may exaggerate. It is time for MediaTek to phase it out. The processor is known for its poor image processing capabilities and performance throttling. N2 has 4GB of RAM and 64 GB of internal storage. Memory is expandable with the hybrid SIM slot. It does not have the gyro sensor and NFC. The fingerprint sensor is at the front and it is fast and accurate.
Nubia N2's processor performance clearly that it is a mid-range hardware. MT6750 is good for your day-to-day tasks, but when it comes to intense gaming of resource intensive apps, it shows signs of throttling. Graphics rendering is not of high quality. Heavy games show signs of lag occasionally. But the good news is that it does not have over-heating issues. Even after 45 minutes of non-stop gaming, the mobile heated up just by 3 degrees. The speaker volume is loud enough for ringtones in noisy places. Overall, Nubia N2 is a decent performer and would suffice your day to day tasks but not power user's needs.
Software
Nubia N2 runs on Android 6.0 with Nubia UI. Though I wish it had Android 7.0 on it out of the box, the user experience from the Nubia UI is pretty good. The UI is fast and feels light weight. It has a whole bunch of useful features scattered and buried at multiple places. The edge feature is one of the innovative features that would redefine gesture-based navigation on Android mobiles. When enabled, this feature lets you navigate back and forth between applications, clear all open applications, adjust screen brightness, etc… using gestures along the edges of the display. It does not have any bloatware. The Nubia UI is nimble and sensible.
Battery
N2 is powered by a massive 5000 mAh battery sealed in the body. The mobile has a 5.5-inch 720p display and a low power processor. All this adds up to an everlasting battery life. On continuous video loop test, the mobile lasted for 12:46 hours from 90 to 20%. On my typical usage, the mobile lasted for 2 days. The device supports Nubia's own quick charging technology – NeoPower and NeoCharge. It gets fully charged in less than 2 hours. The included charger is a fast charger. We have seen so many devices with huge battery life. But this is a rare mobile which supports fast charging along with a huge battery life. Battery life is the highlight of Nubia N2 and you will be buying this mobile, only if you need such a large battery with fast charging capability.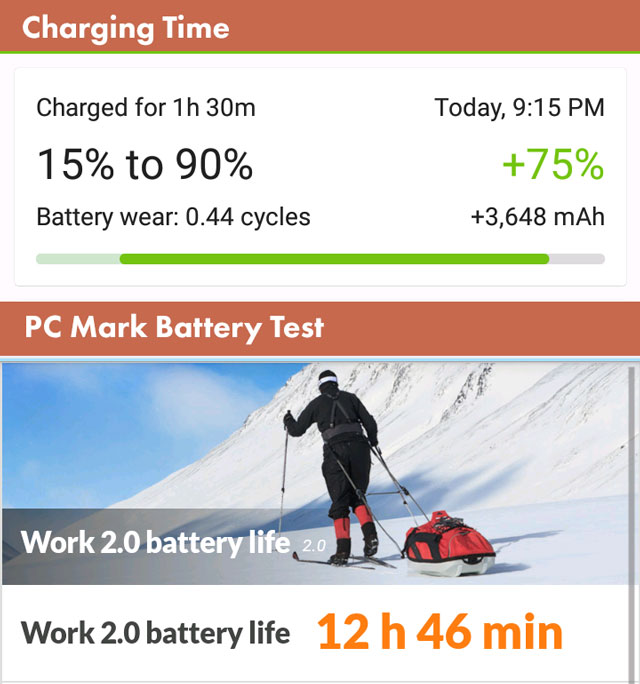 Verdict
Nubia N2 is priced at Rs 15999. For this price, you get a stylish mobile with premium build quality, creative camera features, stable and sensible UI, average performance and over-the-top battery performance. Redmi Note 4 or even the Redmi 4 are better smartphones than the Nubia N2. They have similar battery life., but they don't have fast charging support. There are not many mobiles in this segment with a large battery and fast charging support. The Nubia N2 is a sensible battery based mobile. If you are on the move frequently and you need a mobile with a large battery and yet sleek in looks, the N2 would suit your need. It also has a decent shooter to help you click some memories while on the move. If you are looking for resource intensive usage, then the N2 is just an average performance. If you are looking to use the mobile with regular applications and not a power user, you can buy the N2.
Price – Rs 15999
Availability – on Amazon – http://amzn.to/2uIkKQG
Colors – Space Black and Champagne Gold